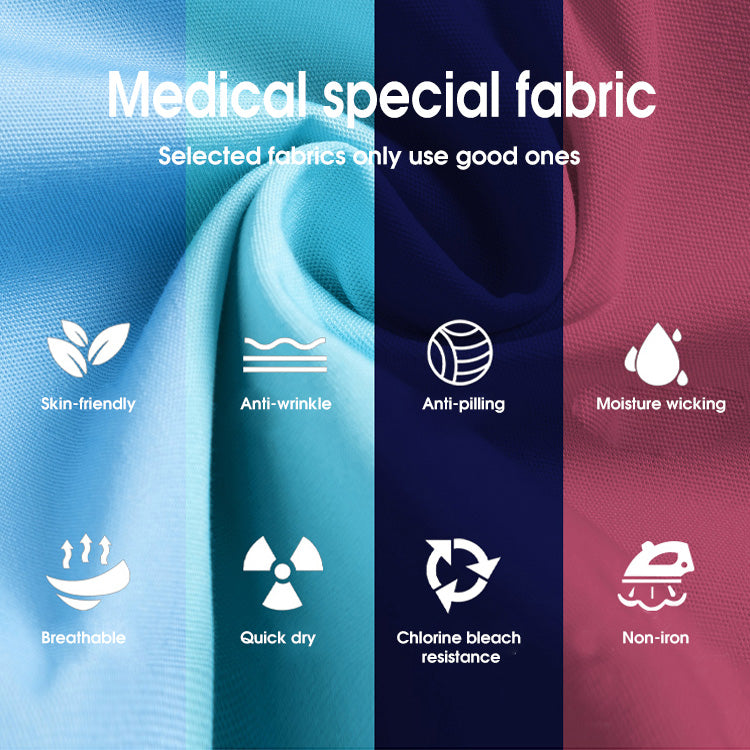 Our newest scrub wear fabrication is ultra lightweight, water-repellent and true four-way stretch. We have engineered this with recycled poly, which is not only great for the environment but makes it technically awesome.
ANTIMICROBIAL FOR ANTI-ODOR, ANTI-WRINKLE & ANTI-STATIC
The four musts of any medical gear, and something that is woven into each garment.
MOISTURE-WICKING & RIDICULOUSLY SOFT
Staying comfortable while working is paramount and our product ensures that.
LAYERS THAT WORK FOR YOU
More flexibility gives you greater freedom.
SEAMLESS PERFORMANCE
Our under scrubs stay cool under pressure. With our proprietary moisture-wicking technology and perforated ventilation details, these under scrubs take your shifts to the next level.
SUPERSOFT FABRIC
Soft fabrics that feel like a hug and are engineered with the highest quality yarns. This delivers extreme levels of softness and comfort that make you feel cosy no matter what your going through.
MODERN MOISTURE-WICKING TECHNOLOGY
Moisture-wicking technology utilizes capillary action to carry moisture away from the skin and onto the fabric allowing it to evaporate.
Before we are making samples to you, we'd like you to know our fabric standard in details, please check below:

-Color fastness for Rubbing: (ISO 105 X12-2016)
Purpose of the test, to make sure when people wearing the garment with light color underwear it won't stain the color on it.
Woven part:
Dry rubbing, grade 4
very dark and bright color grade (Black, Red, very dark Navy) 3.5,
Wet rubbing, grade 3
very dark and bright color grade (Black, Red, very dark Navy) 2.5
Knitting part:
Dry rubbing, dark/bright color grade 3.5, other color grade 4.
Wet rubbing, grade 2.5

-Color change:
Purpose of testing, to make sure fabric doesn't fading after many times washing.
testing Method ISO 105 C06
Washing procedure: ISO 6220-2012
after 50 times industry laundry in 60°C water 30 min by Non-phosphate Reference Detergent 3, followed by Tumble Dry
Woven part: grade 3
Knitting part: grade 2.5

-Color fastness to washing:(ISO 150 C60)
Purpose of Testing, to make sure the color of fabric won't bleeding on other garment or labels when they washing together
Woven part
Acetate, grade 3
Cotton, grade 4
Nylon, grade 3
Polyester, grade 3
Acrylic, grade 4
Wool, grade 4
Knitting part
Acetate, grade 3
Cotton, grade 4
Nylon, grade 3
Polyester, grade 3
Acrylic, grade 4
Wool, grade 4

-Color fastness to perspiration, (ISO 150 E04:2009)
Woven part Grade 4
Knitting part Grade 4

-Color fastness to light, (ISO 105 B02)
Woven part Grade 4
Knitting part Grade 3

-Breaking strength, (ISO 13934:1999)
Purpose of testing, to make sure the durability of the garment after 50 or more times washing and wearing.
Woven part Warp 1050N, Weft 500N,
Knitting part Not Available

-Tearing strength, (ISO 13937:2000)
Purpose of testing, to make sure the durability of the garment after 50 or more times washing and wearing.
Woven part Warp 32N, Weft 19N
Knitting part Not Available

-Pilling Resistant, ( ISO 12945-2:2000)
Woven part Grade 4
Knitting part Grade 3

-Shrinkage (ISO 5330: 2001)
3 times industry laundry in 60°C water, Tumble dry
Woven part: Max 3%
Knitting part: Max 3%